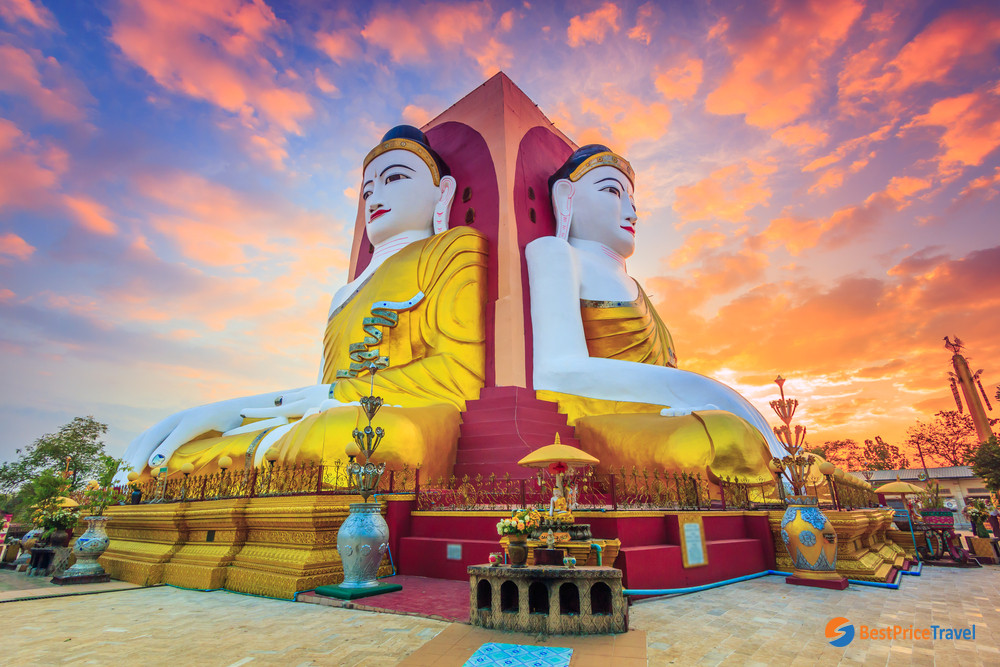 Destinations
Bago
Bago is located on the Pegu ( Bago ) River, 47 miles (76 km) northeast of Yangon . Bago was the capital of the Mon kingdom and is surrounded by the ruins of its old wall and moat . Bago is one of the richest archaeological sites in Myanmar.
Bago was made the capital of the Mon Kingdom and it came to be known as Hanthawaddy . Then it became the Second Myanmar Empire founded by King Bayinnaung. Two Mon brothers Thamala and Wimala from Thaton. first founded the city about 825 A.D.
The most outstanding of Bago's attractions are Shwemawdaw Pagoda , Kyaik Pun Pagoda , Shwetharlyaung Pagoda , Kanbawzathadi Palace .
The Shwemawdaw Pagoda is located in Bago, Myanmar. It is referred to as At 114 metres in height, the Shwemadaw holds the record for the tallest pagoda in the country . Kyaik Pun Pagoda is a four – sided Buddha image built around a central brick core . The monument has been rebuilt many times , it was originally built in 1476 by King Dhammazedi and the 16th  king of the Hanthawaddy . The four – sided Buddha is a familar theme in Southeast Asian art .
The Shwethalyaung Pagoda is one of the largest reclining Buddha images in Burma and it is situated in Bago Burma . It has a length of 55 metres ( 180 ft ) and a height of 16 metres ( 52 ft ) and have been buit in 994 . After a 1757 pillaging of the area , the world lost track for the Pagoda , only to have a British railway engineer accidentally rediscover it , completely overgrown with jungle , in 1880 . Kanbawzathadi Palace is located in Bago, Burma. It was built under the order of King Bayinnaung in 1556 , consisted of  76 apartment and halls. Unfortunately it was burned down in 1599 and reconstructed in 1990 and finished in 1992 .
Last updated 1 year ago