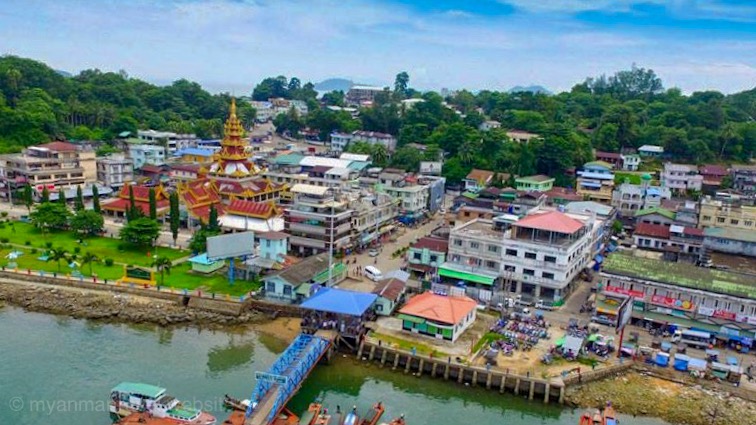 Destinations
Kawthaung

Kawthaung is located the southernmost part of Myanmar , Thanintharyi Region . In 1859 , Chinese and Thai people started built as Maliwun (Victoria Point ) , a village 14 miles at the north of Kawthaung . In 1891 , the local government offices were moved from Maliwun to Kawthaung . Kawthaung is situated The Thai border town of Ranong in the east and the Andaman Sea in the west and south – west .
The most famous pagoda in kawthaung is Pyi Daw Aye Pagoda , situated in on the hill to the north of the town centre , there are Myanmar Traditional Souvenir shops near the entrance .  Pyi Daw Aye Pagoda is a good for taking in the sunset and can feel adorable Sea Views by acrossing the river and the Thai Mountains off in the distance .
Bayintnaung Cape was the southernmost land of the Myanmar country . Bayintnaung Hillock is near from Bayinnaung Cape and Pak Chan River , on the Bayintnaung Hillock , the statue of King Bayintnaung pulling has sward halfway  out of the sheath . A stone pillar near the statue depicts a brief biography of King Bayintnaung in the Myanmar and English .
555 Mountain is 555 feet in hight from sea elevation , can see the whole view of Kawthaung city at the top of 555 Mountain .
Palautonetone island village is a small island with a long wooden bridge connect with mainland Myanmar , it's located 5 km away from Kawthaung , it's features mangroves in the east and sandy beach in the west . There are several seafood restaurants where you can chill and enjoy some good food . It's not too far from Maliwan Waterfall and Hot Spring .
Maliwun waterfall is located around 50 km ( 24 Miles one way ) outside of Kawthaung , near Maliwun Village , it have swimming area with water park and can climb up to see other waterfalls upstream . After driving almost 30 minutes , will arrive natural Maliwun Hot Spring .
Along the coastline of Kawthaung , there are boat trips available where you can do Snorkelling , Diving and travelling to the various famous island trip .
Last updated 1 year ago